Galerie Cite at La Cite Francophone 2013 to present
In 2014, Daniel Cournoyer and Dawn Saunders Dahl created Galerie Cite within the public spaces of La Cite Francophone. Together, they transformed the French Cultural Centre into a public art gallery offering exhibits, workshops and events to the community. Galerie Cité provides unique opportunities for participants and visitors to explore the history of the area through visual art.
First Meeting project at Galerie Cite 2014- 2017
This project includes the research, re-creation and documentation of the First Meetings between Alberta's First Nations peoples and the French Voyageurs along Edmonton's river valley in September of 2017. We created an artistic environment where First Nations peoples are portrayed as healthy, kind and helpful people who shared their resources. Vital to this process is the community, building shared identity experiences to nurture understanding and respect. In September 2017, we re-enacted what a "First meeting" could have looked like based on our research and our conversations with local Elders, community members and historians.
ᐄᓃᐤ (ÎNÎW) River Lot 11∞ Indigenous Art Park,
Queen Elizabeth Park, Edmonton, Alberta 2013-2015
Dawn was instrumental in developing artist/community workshops and new relationships with Indigenous Artists, Elders and Community members within Treaty 6 and across Canada in the first stages of this project. She was the lead contact between City partners, Indigenous Artists, the Community and Curator Candice Hopkins. The park is expected to open to the public in Fall 2018 and will feature six artworks by Canadian Indigenous artists, that will "tell the story of this place".
To find out more about this project visit:
Canadian Aboriginal Art Program
The Works Art & Design Festival 2009-2013
In 2009, The Works Fest launched the Canadian Aboriginal Artist Program to highlight the artistic contributions that contemporary Aboriginal artists make to visual culture. For the first three years, the program was supported by the Canada Council for the Arts and showcased the work of established, and emerging Aboriginal artists from across the country. Dawn created the program to address the lack of Indigenous contemporary artists being shown in Edmonton's public spaces and to provide mentorship opportunities between senior and emerging Indigenous Artists. Invited artists between 2009-13 included Terrance Houle, Sonny Assu, David Garneau, Lawrence Paul Yuxweleptun, and Adrian Stimson.
Read more about the program here: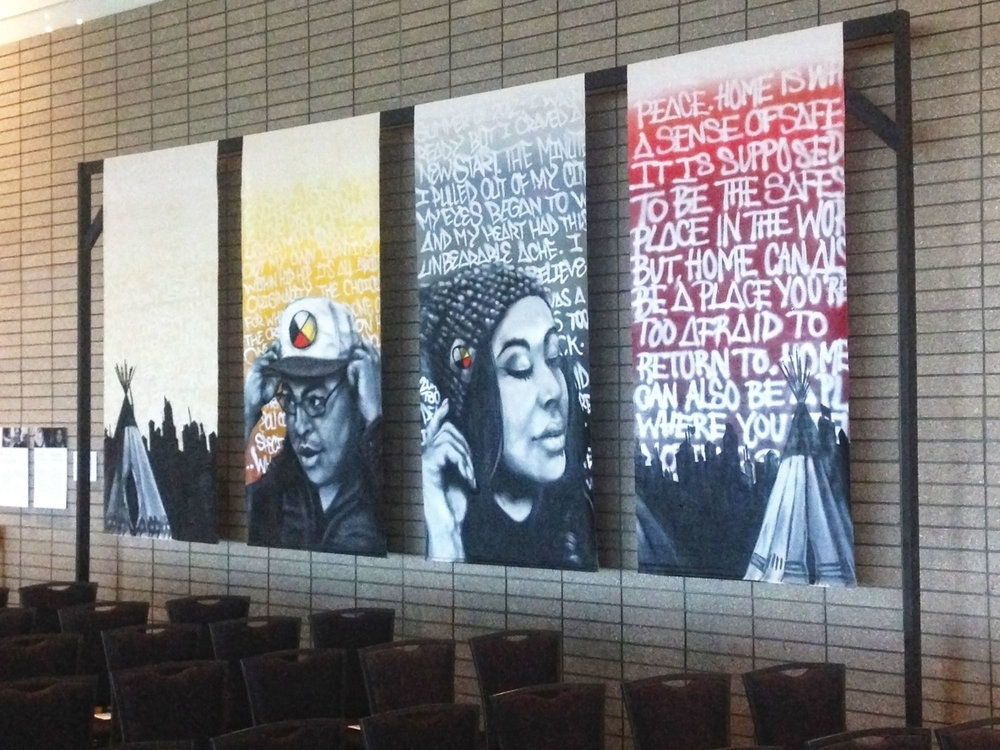 Walrus Talks, 2015
Produced by Dawn Marie March and and Dawn Saunders Dahl, the Walrus Talks Aboriginal City Exhibit features the work of more than 30 Aboriginal artists from Western Canada, Edmonton and area.
Find out more here:
Artist residencies:
Dawn has been developing a number of different artist residencies, more info to come!
• Pilot project in Naramata BC, 2017
• Pilot project in Donnelly Alberta, 2018
• Canmore, Alberta 2017 to present